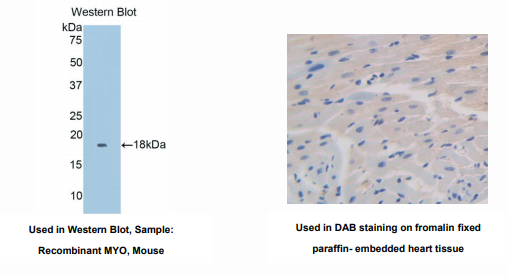 小鼠肌红蛋白(MYO)多克隆抗体
产品名称: 小鼠肌红蛋白(MYO)多克隆抗体
英文名称: Polyclonal Antibody to Myoglobin (MYO)
产品编号: YBA7480Mu01
产品价格: null
产品产地: 中国/上海
品牌商标: 钰博生物
更新时间: 2023-08-17T10:29:50
使用范围: WB; IHC; ICC; IP.
上海钰博生物科技有限公司
联系人 :

陈环环

地址 :

上海市沪闵路6088号龙之梦大厦8楼806室

邮编 :

200612

所在区域 :

上海

电话 :

18321282235

传真 :

021-60514606

邮箱 :

shybio@126.com
小鼠肌红蛋白(MYO)多克隆抗体
Polyclonal Antibody to Myoglobin (MYO)
[ PRODUCT INFORMATION ]
Purification: Affinity Chromatography.
Applications: WB, ICC, IHC-P, IHC-F, ELISA
[ IMMUNOGEN INFORMATION ]
Immunogen:Recombinant MYO (Met1~Gly154) with N-terminal His-Tag expressed in E.coli.
[ RELEVANCE ]
[ ANTIBODY SPECIFITY ]
The antibody is a rabbit polyclonal antibody raised against MYO. It has been selected for its ability to recognize MYO in immunohistochemical staining and western blotting
[ APPLICATIONS ]
Western blotting: 1:50-400
Immunocytochemistry in formalin fixed cells: 1:50-500
Immunohistochemistry in formalin fixed frozen section: 1:50-500
Immunohistochemistry in paraffin section: 1:10-100
Enzyme-linked Immunosorbent Assay: 1:100-200
Optimal working dilutions must be determined by end user.
[ CONTENTS ]
Form & Buffer: Supplied as solution form in PBS, pH7.4, containing 0.02% 

NaN

3

 50% glycerol.
[ QUALITY CONTROL ]
Content: The quality control contains recombinant MYO (Met1~Gly154) disposed in loading buffer.
Usage: 10uL per well when 3,3'-Diaminobenzidine(DAB) as the substrate. 5uL pe r well when used in enhan ced chemilumes cent (ECL ).
Note: The quality control is specifically manufactured as the positive control. Not used for other purposes. Loading Buffer: 100mM Tris(pH8.8), 2% SDS, 200mM NaCl, 50% glycerol, BPB 0.01%, NaN3 0.02%.
[ STORAGE ]
Store at 4 

°C

 for frequent use. Stored at -20

°C

 to -80 

°C

 in a manual defrost freezer for one year without detectable loss of activity. Avoid repeated freeze-thaw cycles.
[ IMAGES ]
本产品仅供科研使用.请勿用于医药,不能用于临床治疗诊断使用!以实际收货产品说明书为准,网站说明书仅供参考。