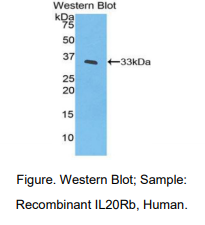 人模白介素20受体β(IL20Rb)多克隆抗体
产品名称: 人模白介素20受体β(IL20Rb)多克隆抗体
英文名称: Polyclonal Antibody to Interleukin 20 Receptor Beta (IL20Rb)
产品编号: YBe7769Hu01
产品价格: null
产品产地: 中国/上海
品牌商标: 钰博生物
更新时间: 2023-08-17T10:29:50
使用范围: WB; IHC; ICC; IP.
上海钰博生物科技有限公司
联系人 :

陈环环

地址 :

上海市沪闵路6088号龙之梦大厦8楼806室

邮编 :

200612

所在区域 :

上海

电话 :

18321282235

传真 :

021-60514606

邮箱 :

shybio@126.com
人模白介素20受体β(IL20Rb)多克隆抗体
Polyclonal Antibody to Interleukin 20 Receptor Beta (IL20Rb)
[ PROPERTIES ]
Source: Polyclonal antibody preparation
Purification: Antigen-specific affinity chromatography followed by Protein A affinity
Applications: WB; IHC; ICC; IP.
[ IMMUNOGEN ]  


Immunogen: 

Recombinant IL20Rb (Ala37~Glu290) expressed in E.coli
[ APPLICATIONS ] 


Western blotting: 0.5-2µg/mL




Immunohistochemistry: 5-20µg/mL




Immunocytochemistry: 5-20µg/mL




Optimal working dilutions must be determined by end user. 


[ FORMULATION ] 


Form & Buffer: 

Supplied as solution form in PBS, pH7.4, containing 0.02% NaN3, 50% glycerol. 
[ STORAGE AND STABILITY ] 


Storage: Avoid repeated freeze/thaw cycles.




Store at 4ºC for frequent use.


Aliquot and store at -20ºC for 12 months.
Stability Test: The thermal stability is described by the loss rate. The loss rate was determinedby accelerated thermal degradation test, that is, incubate the protein at 37°C for 48h, and noobvious degradation and precipitation were observed. The loss rate is less than 5% within theexpiration date under appropriate storage condition.  
[ IDENTIFICATION ]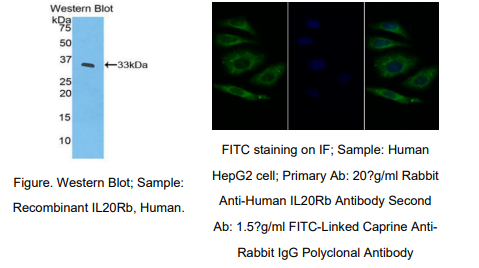 [ IMPORTANT NOTE ]
The kit is designed for research use only, we will not be responsible for any issue if the kit wasused in clinical diagnostic or any other procedures.

本产品仅供科研使用.请勿用于医药,不能用于临床治疗诊断使用!以实际收货产品说明书为准,网站说明书仅供参考。